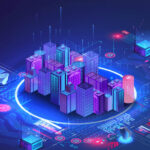 ZEBAI: Innovative methodologies to design Zero-Emission and cost-effective Buildings based on Artificial Intelligence
Funding: HORIZON-CL5-2023-D4-01-01
Duration: 2023-2029, Budget: €5m
ZEBAI is an ambitious project in which a broad range of interdisciplinary teams collaborate to develop a new methodology that aims to change the way that Zero-emission buildings are designed, by integrating all interdependent analysis and partial alternative decision-making processes under a holistic approach that allows the evaluation of a design simultaneously taking into account: energy performance, environmental impact, indoor environmental quality and cost-effectiveness.
For this purpose, we will require to develop a database of well-characterised materials and make an estimation of discrepancies between simulated and actual building performance. The methodology that will be used is artificial intelligence techniques to optimise the selection of materials and systems in different aspects of the building design.
The AI-assisted methodology aims to make the design process more efficient and user-friendly while incorporating all environmental quality and cost-effectiveness objectives. This approach will enable the optimisation of new architectural designs towards scalable Zero Energy Building (ZEB) design in different climates, usages, and building patterns, with the ultimate goal of achieving a zero-emission building stock by 2050.